Product
Quick Links
Handmade
Pottery

Far-Flung
Quilts

Quilters
Haven

The Gypsy
Quilter

Serendipity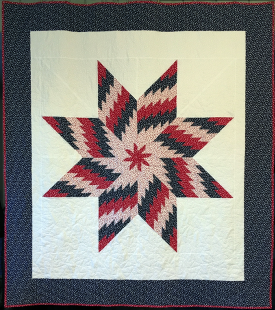 Get The Free Quilt Pattern Below!

Make this handsome patriotic star quilt in red, white, and blue colors,
which will be the featured project at the 2019 QOV Weekend Retreat.
It is based on the "Twirling Swirling Dance" star wall hanging pattern
by Barbara Cline, but has been redeveloped by The Quilting Gypsy as
a full sized quilt, and the new pattern requires no "Y" seams to make.
The finished size is 66" x 74". The detailed pattern includes the fabric
requirements (only four fabrics needed), and complete instructions for
cutting and strip set assembly and borders, with lots of color pictures
to help you make the top quickly and easily. Download the pattern by
clicking here for the free PDF file to print or save: Easy QOV Star Quilt
Click the picture below to open the Registration Form for QOV Weekend
Retreat 2020 in a separate browser window. You can then print out the
form and fill it in by hand. Or you can save the form as a PDF file, open
it with Adobe Reader, and fill it in electronically. After you've completed
the form, mail it to Anne Mixon along with your deposit check. Complete
details, including retreat price and room options, are shown on the form.
Remember, any balance due must be paid in full by December 1st, 2019.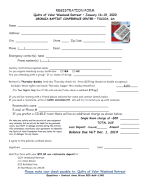 The mission of the Quilts of Valor Foundation is to cover our service
members and veterans who've been touched by war with comforting
and healing Quilts of Valor. If you would like to request a quilt for a
service member or veteran, visit the following site and complete the
easy-to-use online request form: https://www.qovf.org/request-qov/
Additional details about the program are available on the QOVF site.
Click on any picture below to open an enlarged image in a separate
browser window. You can then save or print the picture as desired.


































If you have additional photos that you would like to make available
to our attendees, use our Feedback Form to provide details, and we
will reply to your request with instructions for submission of photos.
Inclusion of all photos is subject to the discretion of our webmaster.
Page [
] Views