This page provides a partial listing of the comprehensive courses and
informative lectures that are available from The Quilting Gypsy. Call
Lanette at 912-713-2258 for further details and to arrange bookings.

Using innovative techniques and tools to save time and ease
construction, these classes will help you to create stunning quilts,
clothing, and personal accessories. You will be amazed and delighted!

New topics are added frequently, so check back here often, and ask
me about any recent additions that are not yet on our website. Be
sure to let me know about your wish list items when you call for info.



Josephine's Knot

Class

Pattern Required (available in class)

For a detailed list of supplies you'll need, click here.

This is an easy full-day class, simple enough for beginners,
but the result is so striking that even the most experienced
quilters will enjoy making this one. The pattern allows for
a wide range of sizes, we will make the 70" x 70" lap quilt.
See the list link above, and be sure to pre-cut your strips.



Circles Aren't Scary!!

Class

Book & Tool Required:
Circle A Round Book
Regular Size Cut A Round Tool

To see yardage requirements and pre-class instructions, click here.

The mystery of sewing curves and circles has been solved! This is
a delightfully creative class where you will learn the technique for
framing circles, and immediately design awesome works of art. We
will explore numerous ways to insert and slice and dice circles to
create a beautiful wall hanging or quilt of which you can be proud.



Chain of Events

Class

Pattern Required
Rulers Recommended (provided for class and available for purchase)

The pattern for this class uses two new techniques to create
"54-40 or Fight" and "Goose Chase" blocks to make a gorgeous
wall hanging, throw or queen size quilt. Your quilt can be made
in two colors, or scrappy with five or more coordinating darks and
one neutral light. The results are stunning! Flying Geese x 4™
and Lazy Angle™ rulers, which will be available for purchase in
the class, are a definite plus but not required.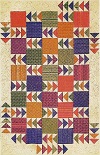 Geese In The Fields

Class

Pattern Required
Flying Geese x 4™ Ruler Recommended (but not required)

Learn the techniques from the Flying Geese x 4™ ruler to piece a
gaggle of flying geese in no time! A baker's dozen of fat quarters
are used for big blocks, alternating with trios of geese, to cook up
this great quilt. We will also try out other geese possibilities that
use the amazing Flying Geese X4™ ruler.



Moroccan Tiles

Class

Pattern Required
Flying Geese x 4™ Ruler Recommended (but not required)

Quarter Square Goose - what's a Quarter Square Goose? Make this
simple table runner using the Flying Geese x 4™ no math ruler. You
will discover a secondary design (quarter square geese) every time
you make these geese. You will make size changes with ease - all
with no math. The pattern also includes instructions for placemats.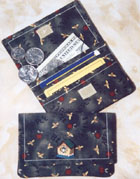 The Runaround Bag & The Wonder Wallet

Class

Two Patterns Required

The Runaround Bag uses two fat quarters and an easy zipper technique
(yes - easy and zipper in the same sentence!) that make this bag quick
as a wink. The Wonder Wallet has plenty of pockets to carry your cards
and cash and coins. Great when you don't want to tote a full-size purse.
A Caravan of New Ideas

Lecture

The Quilting Gypsy - rolling into your world to teach you easy methods
for circular bargello and framing circles, and introduces a plethora of
patterns, tools and instruction books to make fun and easy projects
from bags and wearables to wall art and quilts. This lecture reviews
Phillips Fiber Art, Lazy Girl Designs, Far-Flung Quilts, and more.
Sashing & Border Lecture

Lecture

Explore different types of sashing and borders. Then, using repro-
ducible handouts, learn to calculate sash and border yardages the
easy way. This knowledge will allow you to finish your quilt in a
"uniquely you" way. No longer will you have orphaned or inherited
blocks waiting to be adopted by a quilt, nor will you hesitate to
try new and unusual blocks, all because you attended this lecture.
Page [
] Views